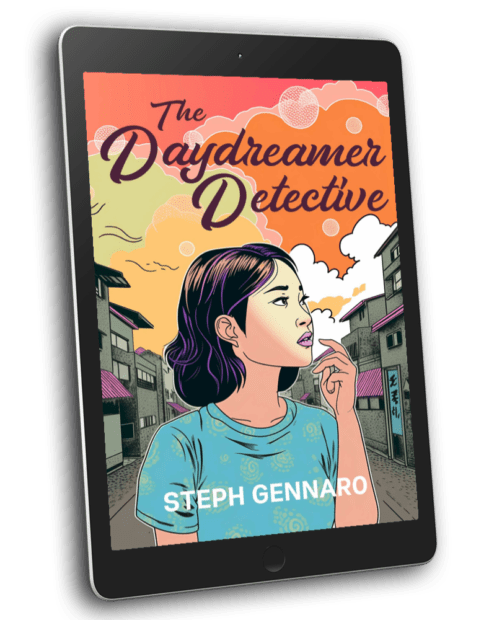 It's a cozy mystery in Japan!
Mei Yamagawa is out of good luck, and she must help solve a murder in her hometown...
She's got her head in the clouds and a taste for solving crime…
Mei Yamagawa is out of luck and out of money. After five years in Tokyo, she has little to show for it besides a laundry list of unrealized dreams. Left without a choice, she returns to her rural Japanese hometown, ready to be branded a failure by her relatives and rivals. At the least, she looks forward to seeing her best friend, until Akiko is accused of murdering her own father.
As Mei helps her farmer mother with the crops, she scouts for clues to clear her friend's name. But during her investigation, she can't help but notice the celebrity chef looking in her direction. The amateur detective can balance a new love interest and a murder case… can't she?
To clear her friend of the crime and find the real killer, Mei's going to need every last ounce of her imagination… and just a pinch of luck.
The Daydreamer Detective is the savory starter to the Miso Cozy series of cozy mystery novels. If you like twisty plots, delectable food descriptions, and rural Japanese towns, then you'll love Steph Gennaro's culinary tale.
Genre: Cozy Mystery / Chicklit / Romance
Series / Book Number: Miso Cozy Mysteries / Book 1
Rating: Rated PG-13 for sexual suggestion
Publishing Date: March 31, 2016
Yasahiro cleared his throat and raised his chin. "To start, we have a fresh green beans and lotus root salad. Crisp and tangy with toasted sesame seeds, rice vinegar, and ginger." He pointed to the plate in front of me, greens and thin slices of lotus root arranged in a neat pile. "And these are my pork and scallion dumplings with Sriracha, ginger, and lemongrass dipping sauce." Four plump dumplings sat on the other plate, and my mouth began to water.
"I hope you enjoy them," he said, bowing and turning to go.
"Wait." I snapped my hand out and grabbed the white fabric of his chef's coat. "Won't you be having lunch with me?"
I glanced around at the restaurant, crawling with people. Oh no. I'd honestly believed we'd have lunch together. He'd tell me about the food and his work and…
I blushed. Hard. I thought this was a date, didn't I? Deep down, way down in the cellar of my brain, I'd daydreamed a date out of this. I was so stupid.
This was the lunch rush hour, and he only did this because I challenged him.
Snap out of it!
"I mean…" I stammered, and letting go of his chef's coat, he smoothed out the wrinkles with his hand. "I know you can't have lunch with me. It's too busy in here. I just thought you might want to, um, explain a little more about the food?"
If only my lie sounded a little more confident.
A small smile grew across his lips, and my entire being died of embarrassment. "I'm sorry. I do have a lot of work to do, including your main course."
"Oh yes, of course. I completely understand. I'm looking forward to eating everything you bring out today. I'm sure I'll be won over by Wednesday, and we'll declare you the winner of this silly challenge."
Because I was not coming here and eating alone while everyone around me ate together. I was willing to do that once in a while, with a book, but not every day. I'd rather I ate at home with Mom.
"No, no, no. I said I was going to feed you lunch for a whole week, and you can't capitulate right away. You said this food would be bland, and I'm going to prove it's not."
I nodded slowly, resigned. What had I gotten myself into? I'd challenged a chef with a prestigious resume, a student of my mother's, and the town's newest darling. I should never have opened my mouth. I was close to making a complete fool of myself, and I regretted it to my bones.
Yasahiro paused for a moment as I took a sip of water.
"But, if you'd like to come and eat lunch a little later tomorrow, maybe after 14:00, I could eat with you. Lunch usually slows down by 13:30 and then we close the kitchen from 14:00 to 16:30 to prepare for dinner."
"I don't want to bother you any more than I already have —"
"It's not a bother," he interrupted, and this time, he stammered and seemed eager to keep me there. Hmmm. Interesting. The daydream of Yasahiro wandering the streets of Paris popped into my head again, and I stopped to add more details to it: the tiny scar through his right eyebrow, the shape of his ears, his white teeth (he must go to a private dentist). The daydream shifted and I imagined him at the dentist's office, in the chair. No! Back to Paris. Yes, that was better.
"I really enjoyed this book! The mystery was a tad predictable and I would've liked a few more twists or surprises, but I did like how Mei got into the investigation and helped out. It also was interesting to learn a bit more about how Japanese law and police works, the author sure did her research. I liked the Japanese settings and the use of some Japanese words and mentions of food which added to the feel. I really liked Mei, she was a great main character. Her mother is a great side character and I really liked her. There is some romance which was a nice addition and I really liked Mei and Yasahiro together. All in all a great start of the series and I can't wait to read the next book!" – Lola's Reviews
"If I were to put in order what I loved about book, I'd say setting, characters and relationships. These three things kept me reading and engrossed in the book. The mystery was very much second to those factors but I still really enjoyed seeing how all that came together. There is also a very captivating romance which I fully believed in. So overall this has a little of everything for me; a character I could relate to, an absorbing rural Japanese setting, a mystery to sink my teeth into and a romance that is slowly developed but had me thinking it could be something very, very special for both people." – Trish, Between My Lines
"A wonderfully warm mystery that still felt sinister, but never became too creepy. It kept a nice balance between the parts of the MC's life. The characters were very nice although a few could use a bit more fleshing out. The shining star of this book is the setting." – Laura, BlueEyedBooks
"I was very excited to see that she'd set the book in Japan, once again. And in a small farming town, no less! Mei was a mostly likable protagonist whom I felt grew into a very likable one. The side characters were intriguing, too. I will definitely be back for more of this series." – Brianna, Always Books
"This book has everything – from love, fun, to action. I wouldn't say it is a typical crime book, neither thriller, so if you look for one of those, please keep going. But if you are up to the story of a small town's society and its mystery crime, which is incredible easy to read, give it a try. I bet you won't regret it." – Amazon Customer
---
Steph Gennaro is a participant in the Amazon Services LLC Associates Program, an affiliate advertising program designed to provide a means for sites to earn advertising fees by advertising and linking to Amazon.com.