Just a quiet weekend with Mei, Akiko, and Kayo...
Turns into a murder investigation!
Even on vacation, Mei can't get away from murder. Traveling to Kubako for a three-day matsuri festival and fireworks, Mei, Akiko, and Kayo are just looking for some relaxation and tasty food, not a weekend full of drama. But when a local celebrity is poisoned in Kayo's family brewery, Kayo's father is the main suspect. Now, Mei, Akiko, and Kayo must put their meddling ways to the test. With the help of Kayo's mother and some local friends, they gather evidence while dodging hotheaded detectives and another dead body. But time is running out and the murderer has everything they need to bury the evidence and deflect suspicion onto someone else. How will they find the murderer when the matsuri is in full swing and everything points to the wrong suspect?
MATSURI AND MURDER is a Miso Cozy Mysteries novella that will keep you on the chase and rooting for Mei until the very end!
Genre: Cozy Mystery / Chicklit / Romance
Series / Book Number: Miso Cozy Mysteries / Book 4.5
Rating: Rated PG-13 for suggestions of violence
Publishing Date: August 7, 2018 (in DESTINATION: MURDER Box Set) and September 12, 2018 (Solo)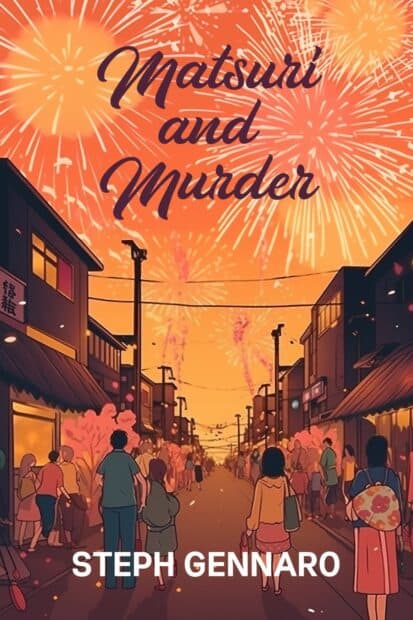 "This was such a fun read. It's amazing how Pajonas manages to fit everything in this fun novella length story without it feeling rushed. We follow familiar characters Mei, Akiko and Kayo to Kayo's home town in this story. There's a festival, a well done murder mystery, new side characters and more. It's a great read that works well as continuation of the series as well as for people new to series as it can work nicely as standalone. There are almost no spoilers for earlier books, but fans of the series will understand a bit more about the situations they hint and talk about in this book. The mystery was a good one and kept me guessing for quite a bit… All in all this is a treat for fans of the series and also works great as a standalone read for those new to this series." – Lola, Lola's Reviews
---
Steph Gennaro is a participant in the Amazon Services LLC Associates Program, an affiliate advertising program designed to provide a means for sites to earn advertising fees by advertising and linking to Amazon.com.